Superior Electronics Contract Manufacturing
For 40 years, ThermOmegaTech® has been a leader in designing and manufacturing thermostatic temperature control valves and actuators. Our thermal actuator technology is used in many industries, including commercial plumbing, aerospace, defense, railroad, and industrial applications where temperature control is critical.
In 2018, ThermOmegaTech® expanded into the Electronics Contract Manufacturing market by acquiring a local PCB contract manufacturer, IMET Electronics Corporation. Then in 2019, they acquired a second manufacturer, TJM Electronics, and have now merged both brands into ThermOmegaTech®.
Over the past four years, ThermOmegaTech® has invested a lot of resources into our Electronics Division to learn about the industry and our customers from the 30+ years of experience our employees have had. We moved all employees and equipment into our manufacturing facility in Warminster, PA, so all company divisions operate from the same location, which has helped us streamline processes and improve communication channels. We also have upgraded our Electronics equipment to the newest technology and strengthened our processes and controls to achieve AS9100D certification.
Combining ThermOmegaTech's mechanical design and manufacturing capabilities with electrical manufacturing abilities has opened the door for us to new opportunities. It has allowed us to broaden our offering to better support our customers' needs.
Comprehensive Electronic Contract Manufacturing
ThermOmegaTech® has expanded its offering and capabilities to include custom short or long-run PCB assembly, accurate and functional prototype representations of your designs, electro-mechanical assembly, product testing, and evaluation to ensure it is Designed for Manufacturability (DFM), and final packaging.
Our automated technology allows us to meet the most rigorous and specialized PCB requirements processing components down to 01005 and fine pitch down to 0.3mm (BGA, QFN, QFP) for industries such as aerospace, defense, medical, industrial, LED lighting, and non-commodity consumer electronic products.
Printed circuit boards are available in a wide range of designs and configurations, including single-layered, double-layered, multi-layered, rigid, flexible, or rigid/flex designs. They can be assembled using surface mount technology, thru-hole processing, or a mix of both. ThermOmegaTech® can manufacture any of these designs for your projects. We also have the capability to assemble oversized boards of any shape and size, up to 460mm (18.11″) wide and 1200mm (47.24″) long.
SMART State-of-the-Art Assembly Lines  
We have increased our electronic contract manufacturing capabilities by adding state-of-the-art, fully automatic assembly lines and 3D optical inspection systems. Our machines perform to produce quickly and precisely while creating an overall lower cost for production.
Our Electronic division production area has also recently been outfitted with specialized electrostatic discharge flooring to prevent static electricity from damaging sensitive electrical components, along with a first-rate humidification system.
We understand the repetitiveness and delicacy required for PCB assembly, which is why we use the top of the line equipment to ensure accuracy and reliability. For a full list of our equipment and capabilities, please click HERE.


Quality Control is our Top Priority
ThermOmegaTech's Quality Management System (QMS) is certified to AS9100D standards, which are based on and include ISO 9001:2015 standard. Due to our Aerospace and Defense industry growth, we have decided to pursue AS9100D as our primary QMS to create standard operating procedures across all business segments. This allows us to enhance the quality of our products and services while increasing efficiencies and alleviating costs to our customers.
By partnering with ThermOmegaTech® for your electronic contract manufacturing needs, you get 30+ years of PCBA experience, modern assembly and inspection equipment, and stringent quality control procedures. We create simple to complex custom PCB assemblies in prototype to high-volume production runs with the highest level of quality possible.
Our Facility
Our facility in Warminster, PA, is equipped for fully automated short or long-run PCB Assembly.

We can manufacture printed circuit boards of the smallest size, up to 4600mm wide and 1200mm long. We run automated printed circuit board assembly lines with state-of-the-art, environmentally conscious technology.

The reduction in manual labor keeps costs down and reliability up!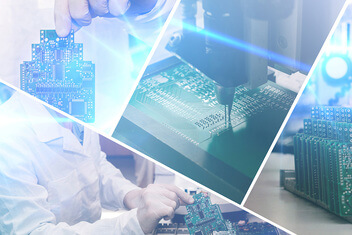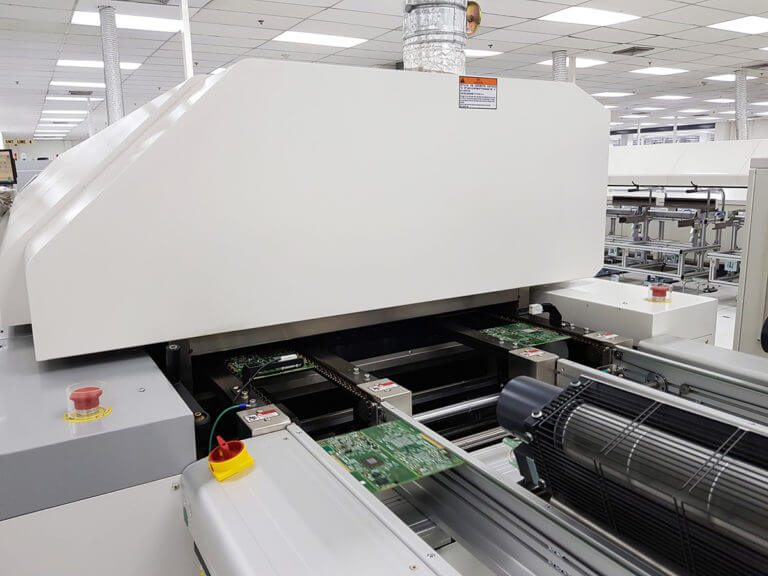 Added Value
We value our relationships with our customers and view ourselves as your partner throughout development and production.

• AS9100D Certified Quality
• Electro-Mechanical
&nbsp&nbspAssembly
• PCB Assembly
• Prototyping
• Turnkey solutions